Posted by Myosource Kinetic Bands on 25th Jul 2019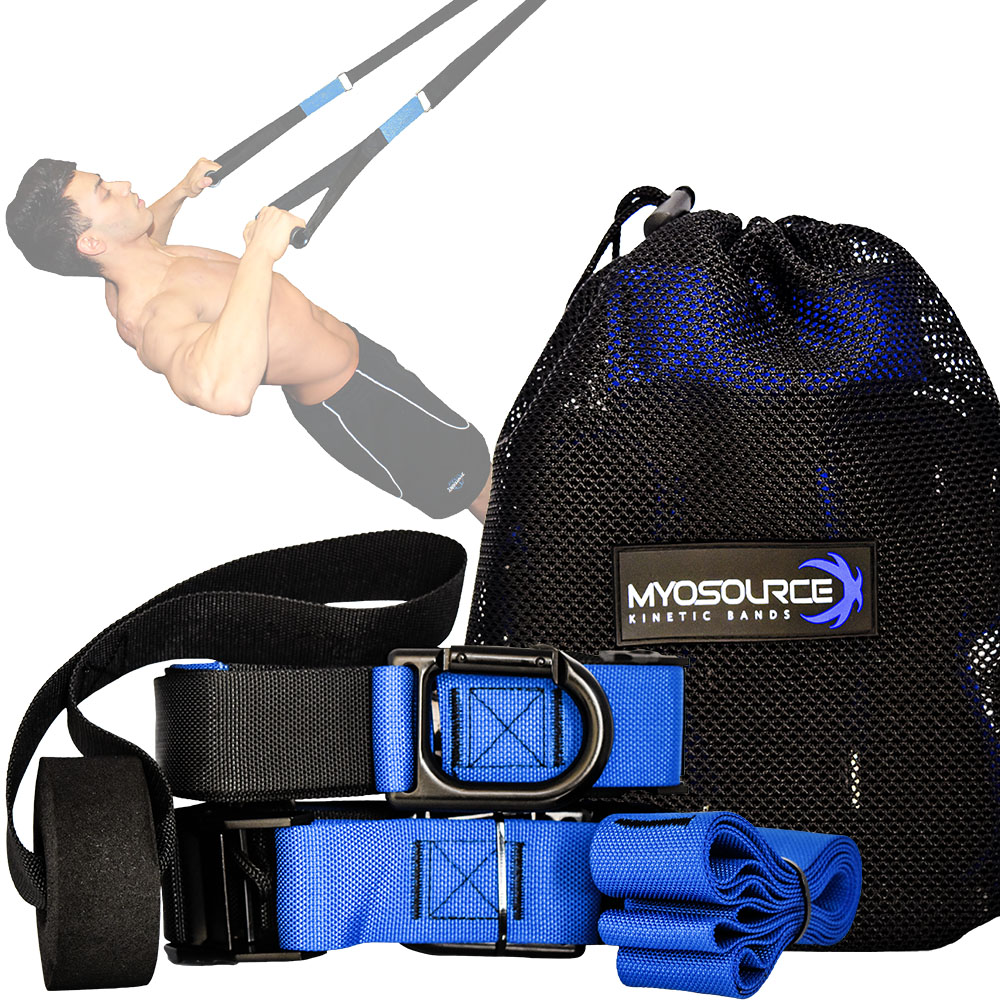 Bodyweight training with suspension straps is becoming increasingly popular with fitness enthusiasts worldwide. Not only because it offers a wide range of bodyweight exercises but it also helps improve the following:
Stability
Core Strength
Body Control
Endurance
Flexibility
Mobility
Strength
Interestingly, a lot of people are hooked on this type of training but most of them don't know the benefits they can gain from it. Let's dive into some of the benefits that we can get from this trending workout.
1. Suited for All
No matter what fitness level you are - beginner, intermediate, or advanced, you can do suspension training. If you are a beginner, you can modify different exercises by placing your body in a more upright position. If you're already experienced, you can adjust the angle of your body for a more challenging workout. If you're advanced, you can execute more difficult exercises by playing your feet in the loops. This intensifies the core muscles in which you can convert a simple push up exercise into a total body workout.
2. Helps Build a Solid Core
Your core comprises of your abdominal muscles, chest, back, and pelvic muscles. These muscles help develop your body's flexibility, stability, and balance. If you really what to look and feel good, it's better to start with building a stronger core because your core is the foundation needed in whatever form of exercise you're doing. A stronger core will allow you to do other training exercises easily and prevent back pains.
3. Equipment on-the-go
As you can see, our suspension straps include:
2 Adjustable Nylon Suspension Straps
2 Comfort Grip Handles
Handy, Breathable Mesh Travel Bag
Overhead Mounting Strap
Door Mount
This means you can do your training anywhere you go. You can attach them to a sturdy object and continue working on your fitness goals wherever you may be. If you're at home or in any indoor facility with no gym equipment, you can just slip the door mount over the top of a sturdy door and you're ready to fire up your training. If you're outdoors, just attach the overhead mounting strap to anything sturdy like a large tree branch or a pole and you're good to go!
You can check here for a more detailed explanation on how to use the mounting accessories.
4. Total Body Workout
As simple as it seems, these adjustable suspension straps can offer a myriad of exercise routines. You're not contained in just one or two training routines like what some traditional training offers. With KineticRT® Suspension Straps, you can enjoy doing your favorite exercises. That's how amazing this product is and it really does wonders for your body. The straps are adjustable, depending on your body weight/height, so you can adjust them to your liking and it's also easy for you to switch from one exercise to another.
A very reliable and easy to use piece of equipment for most of your training exercise. What more can you ask for?
Final Note
Suspension workouts are creating quite the buzz in the global fitness industry. If you're interested in experiencing its benefits, we suggest giving it a try using the suspension straps and you'll be amazed by the guaranteed results.
You can send us a message for more information.