Increase Flexibility | Improve Stretching | Perfect Stunts
Our Flexibility Stunt Strap helps increase flexibility, improve stretching, and perfect stunts in cheerleading, gymnastics, and dance.
This lightweight and easily portable strap has a loop at each end; wrap one loop around your foot and use the other to pull toward you for flexibility, stretching, or stunting. It's made of heavy nylon and is approximately 39.5 inches long, 1 inch wide, and is currently available in five (5) colors (light blue, red, pink, black, purple).
The Flexibility Stunt Strap was originally designed to help cheerleaders increase their flexibility and stretch their muscles without putting any unnecessary stress on their joints; however, it has quickly become a popular flexibility stretching tool for other athletes like dancers and gymnasts who require great flexibility to perform. It works well for a pre-stretch warm up or for post-stretching.
As a stunt strap, the Stunt & Flexibility Strap can help a cheerleader perfect stunts like a scorpion and heel stretch. Visit our Cheer Kinetic Bands product page for directions on how to perform these stunts.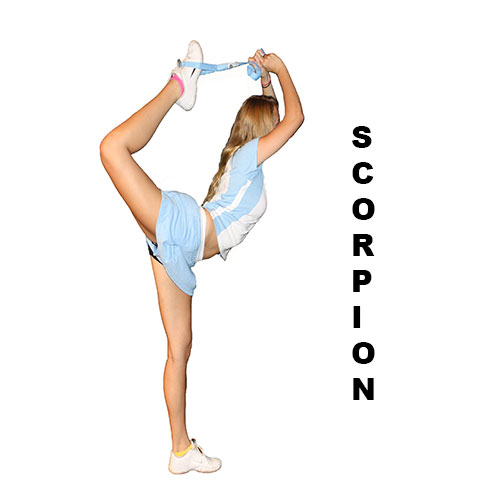 Benefits of Flexibility Stretching
Flexibility stretching should be a part of any cheerleading, dance or gymnastics dynamic warm up routine. It provides benefits like increasing flexibility in your hips, calves, IT band, quads and can help improve range of motion in your joints, all of which can help reduce the risk of injuries.
Less active people who may not get much physical activity and just need to stretch their muscles also find using the Stunt & Flexibility Strap is easy and very beneficial.
Get the Flexibility Stunt Strap FREE when you purchase any of these products: Cheer Kinetic Bands & Stunt Strap, Dance Kinetic Bands & Flexibility Strap, Gymnastics Kinetic Bands, or Total Body Fitness Combo with DVD!
30-Day Money Back Guarantee