Posted by Myosource Kinetic Bands on 11th Sep 2014
Save 15% on your Myosource Purchase - Use Coupon Code BLOG15
The Myosource Athletic Stretching Strap is a great tool for volleyball players and all other athletes to use during pre and post workout stretching. As you can see in the video the athletic stretching strap will allow volleyball players to stretch slowly and smoothly in order to get the best results out of your volleyball stretch routine. The stretches in the above video are designed to make sure volleyball players stretch out their entire body. This is a great way to prevent injury. Myosource Athletic Stretching Strap will help volleyball players stretch their hip flexors, quads, hamstrings, calves, upper back, middle back, lower back and upper body. Prepare all your muscles to perform at their highest level with a great pre stretch and post stretch with Myosource Athletic Stretching Strap. Your muscles will thank you.
Hip Flexors: Volleyball players are in a defensive stance often - if the hip flexors are not fully stretched they will be tight and will restrict volleyball players from operating at full range of motion. Tight and tense hip flexors will lead to back pain.
Quads: Injury in volleyball is often experienced in jumping which is very strenuous on the quadriceps. Stretching is vitally important so that the quads contract quickly and easily to prevent stress on the knees.
Hamstrings: Stretching is vital for a volleyball players hamstrings in order to maintain stability and power for jumping and landing. A pulled hamstring muscle is seen often in volleyball due to lack of adequate stretching preparation. Notice all of the hamstring stretches in the video above.
Back: Back stretches are essential for volleyball. Volleyball players are in a variety of positions on the court that are strenuous on the upper, middle and lower back. Perform back stretches thoroughly pre and post for volleyball.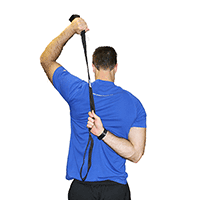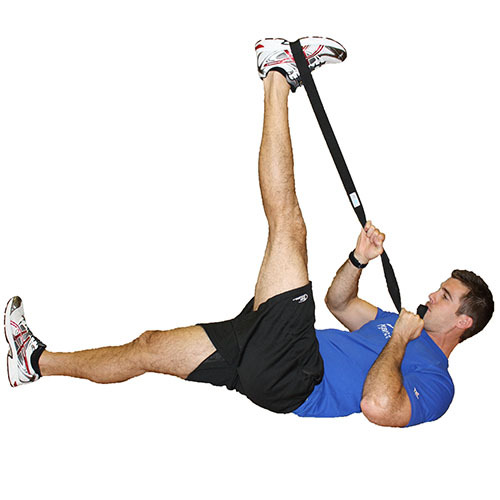 The list of reasons that stretching is important for volleyball players goes on and on.
Myosource offers a "Free" Athletic Stretching Strap with the purchase of a set of Myosource Ultimate Kinetic Bandsor you may purchase you Athletic Stretching Strap separately at http://www.myosource.com.
Great volleyball players need to be explosive, able to move from side to side quickly and effectively and have the stability and body control to perform great jumps, dives and hits on the court. Myosource Ultimate Kinetic Bands and Myosource Athletic Stretching Strap allow volleyball players to intensify their training and perform their techniques by adding resistance to each movement. The bands cause the muscles to react and contract in each movement, which will increase strength and agility to jump higher, move quicker laterally as well as forward and back and remain stable, and in control on the volleyball court. Increase your volleyball performance by using Myosource Ultimate Kinetic Bands and performing your pre and post stretching routine with Myosource Athletic Stretching Strap.
For more great volleyball training and information please visit our Myosource Volleyball page at http://www.myosource.com/volleyball/